Google Places is by far the strongest free marketing tool out there for local businesses. Originally introduced in March 2004 as Google Local, it displays local business info at the top of Goggle's organic search returns accompanied by a map. Most searches turn out 7 businesses, which means ranking in the top 7 of Goggle Places can be a huge lift to a local company.
Breaking into the top 7 of Goggle Places takes expert knowledge and time and staying there takes continued effort. It begins with claiming and optimizing your Google Places local business listing. Once done you can examine your ranking and then decide if you want to bring a local SEO expert in to make sure you are up in the top 7 returned results.
Check out the screen shot below to see the way Google Places displays its 7 results, and also the position of sponsored ads.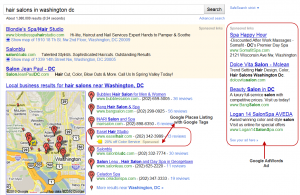 To begin the process visit Google and search for Google Places. Register for an account. Follow the bouncing ball until you can click on the button that says "Add a Business". The first page of the submission form is mostly fill in the blank, but there are several important opportunities to optimize the listing.
Business Name
You must choose your business name wisely. While no one audits the listings to verify that the company name matches your incorporation documents, you must still be wary. If your company's legal name is "Joe's Computer Repair" you need to tweak it for the purposes of Google Places optimization. One easy way to do this is to add a keyword descriptor or your primary city. For example: "Joe's Quick Computer Repair" or "Joe's Computer Repair of Miami".
Goggle Places Description
Carefully craft a 200 character description of your business focusing almost exclusively on your key products and services. Don't waste space here for marketing speak such as "Proudly serving the Miami area since 1976". Also, do not waste space here by including geographic references. The geography is almost entirely controlled by the city you list for your address. Inclusion of additional cities does virtually nothing when it comes to optimizing your Google Places listing.
For our hypothetical painting company, "Joe's Computer Repair", an optimized description would go something like:
Computer repair shop specializing in PC repair and speed enhancement for PCs. Services include hard drive repair and backup, data recovery, speed optimization and general computer repairs.
It is important to remember that the description is designed to reach a broader search audience – not win awards on Madison Avenue. Keep it simple and include your top keywords. 200 characters is not a lot of room, so make sure not to waste space.
Category
Google Places requires the use of at least one standard category. Begin by typing your top keywords and choose the most relevant category. Google Places provides the ability to include 5 categories. Use them. If your top keywords are not standard categories, then use one or two closely related standard categories and use the remaining three slots for specific keywords.
For our hypothetical company, the categories might look something like:
Computer (Standard)
Computer Repair (Top keyword search / Custom Category)
PC Repair (Top keyword search / Custom Category)
Data Recovery (Top keyword search / Custom Category)
PC Shop (Standard, but an extremely popular related search term)
Service Areas and Location Settings
The Service Areas and Location Settings options are designed to allow a business to establish a service area if the company does not have a storefront of some sort. If in doubt, complete the option accurately for your business.
Business hours and payment options are purely optional and serve little if any value to the optimization process. Potential customers certainly will find the information useful.
Google Places provides the ability to add up to 10 photos and 5 videos (from YouTube.com). Make sure you always use keywords to name your photos and take advantage of the "tag" functions provided by YouTube.com. The impact on Google Places traffic is limited, but any impact is good.
Additional Details
To optimize your listing, create a table of your key products and services using as many keywords as possible. Each detail consists of two fields with a maximum space of 200 characters each. Include as many additional details about your company, your products and your services as possible.
The new Google Places local business listing will not be active until verified. Usually, verification can be completed by triggering a phone call from Google's computers to the phone number of record for the listing.
Sponsored Ads?
Once verified you will be included in Goggle Places. If you find you are not listing among the top 7 in Google Places you should think about bringing in a local SEO expert to fine tune and continuously monitor your Google Places status. That is likely a better option for you than paying Google for ad sponsorship and placement, as an actual SEO expert working for you not only will have you ranking in the top 7 but will otherwise optimize your information and site so that you rank effectively and keep customers on your listing.

Tags: google places, google tags, local search, local search engine optimization