Everything you have heard about the power of local SEO is true. It works here in Asheville the same way as it does everywhere.
About 85% of your potential clients will search on the Internet for what you are offering.
They will either find you or your competition. It's up to you.
Chances are, you did not just run into this website by accident. It's likely that you found us by running a search in Google, Yahoo or Bing. You may have searched for a custom web design firm or an Internet Marketing firm that specializes in building your online exposure.
As you can see, we didn't simply leave it to chance that prospective clients would somehow stumble across our website. Instead, we've worked extremely hard at testing and developing solutions that effectively influence search engine rank and bring prospective clients (like you) to our site.
Local SEO can include some simple tricks, but adding dedicated local SEO to your business site takes a professional who can utilize a comprehensive local SEO plan.
Within the last few years the search engines have been providing improved local search features. The largest search engine, Google, has in fact been embedding these "Maps" inside their search pages as part of their Universal Search results. This has opened new opportunities for local businesses and requires different techniques, from original "organic" SEO, to get exposure they couldn't have before.
Look at the following screen shot to see how Google now favors local posts: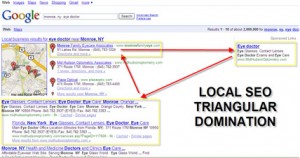 When the Internet hit its first big boom most users were thinking globally. They were excited about the prospect of finding far flung customers for their products and services all over the world. The reality is that this concept simply doesn't work for most businesses. However many potential customers, local to your business, sit down at their computers with their wallets out. They are looking for the nearest business that will suit their needs. In most instances, they will conduct a localized search and not a global one.
Local SEO experts simply aim to get your name, website and business in front of the people that are most likely to use it – those that are physically located near it. Think of it as the local section of your yellow pages. At the end of the day, local SEO means that if your hardware store is located in Asheville, NC potential customers will find your shop by searching locally.
Don't forget that people are trying to find you, you are not trying to find them. Utilizing local SEO techniques will make it much easier for potential customers to find your local business. Having a traditional SEO campaign is fine, but if you are looking to increase traffic with local prospects, a local SEO campaign is a necessity.
There are specific tactics and techniques that can and should be used to ensure that your SEO is targeted to a local audience. If you want this kind of powerful local SEO to work for you contact us at SEO Pro Asheville and find out how.

Tags: Ashville SEO expert, local search engine optimization, local SEO