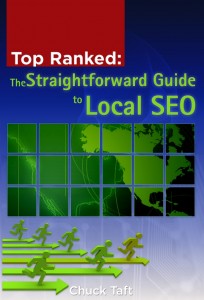 Asheville professional marketing expert and SEO consultant Chuck Taft has just published his first book, full of local search engine marketing tips for any business that has a website and needs more customers to land on it.
'Top Ranked: The Straightforward Guide to Local SEO' is written with the average small to mid-size business owner in mind and contains everything they need to know about optimizing their commercial website in order to increase visits and sales. This new book contains tons of online marketing and web optimization strategies, most of which can be implemented by business owners immediately to improve site ranking as well as customer traffic and purchases.
Taft's book includes plenty of hot and current tips and techniques for ranking on top search engines like Google and Yahoo, designing web pages optimized to a target audience, and maximizing social media presence the smart way. It also includes plenty of insight into internet marketing and how to analyze your web presence.
Most importantly, Taft's book is specifically written to help businesses increase their local SEO presence. With all the major search engines such as Google focusing more and more on localization, and customers looking more and more for local results, this book is a treasure-trove of techniques and guidance for companies that might already have a web site and social media participation but aren't yet fully integrated with powerful local SEO.
'Top Ranked: The Straightforward Guide to Local SEO' by Chuck Taft is available on Amazon.com and at all the finest bookstores such as Barnes & Noble.
Chuck Taft is an SEO and marketing expert who runs Green-Light-Strategies and SEO Pro Asheville, two consulting firms which specialize in SEO, local SEO, and web marketing strategies. He has successfully helped numerous businesses optimize their web presence and their properties and services online.
Chuck is an expert at not only getting companies top ranked but in converting their success to increased sales. As the web moves from a focus on SEO focus to total Search Engine Marketing (SEM) and internet strategies, Chuck is on the forefront of virtual marketing and positioned to help guide companies into the future.

Tags: asheville, chuck taft, chuck taft asheville, local SEO, local SEO expert, topranked, topranked: your straightforward guide to local seo